Posted on May 04, 2016
It's Official!
Congratulations Naples Coldwell Banker Previews Office!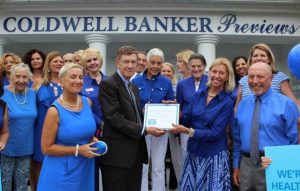 The Coldwell Banker 5th Avenue South office, led by managing broker Nancy MacDonald, became the very first real estate firm in SW Florida to become a Blue Zones Project today! More than half the sales agents and the entire staff along with Dr. Allen Weiss, CEO of the Naples Community Hospital Healthcare Systems attended the ribbon cutting [click on photo below to enlarge photo]. I blogged about the Blue Zones Story last year [see blog post below]. My family has embraced the philosophy: To make healthier choices in order to live longer happier lives. I've talked about it with my friends and co-workers, and together we made the commitment to become a Blue Zones Project; the very first business on 5th Avenue South to achieve this designation! I am so proud of my colleagues for embracing this with all their hearts and souls! Becoming a Blue Zones Project seemed like the perfect fit for our real estate office, after all, we are Coldwell Banker…We lead the nation in everything related to homeownership. What better than to embrace a concept that helps us live longer, healthier lives. We don't sell houses, we sell homes, we sell lifestyles, and we are so blessed to sell in beautiful Naples Florida, recently recognized as the "Happiest & Healthiest place to live in America"! #GoBlue #ThisIsHome #HomeRocks #ColdwellBanker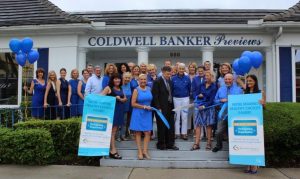 Thank you for reading about this worthwhile mission. Here is my post from last year explaining the Blue Zones Story in more detail:
Thursday, October 29, 2015
What is Blue Zones?
We are on a mission to help people Live Longer, Better Lives!
The Blue Zones Story
What is a "Blue Zone"? Well, if you are living in Naples Florida, you will soon be hearing this term a lot. By definition, Blue Zones is a concept used to identify a demographic and or geographic area of the world where people live measurably longer lives. There are five regions in the world where residents live longer, healthier lives; they are: Sardinia Italy, The islands of Okinawa Japan, Loma Linda California, the Nicoya Peninsula of Costa Rica, and Icaria Greece. In a study conducted in 2009 it was found that 1 out of 3 people on the island of Icaria live well into their 90's and have about a 20% lower rate of cancer, 50% lower rates of heart disease, and virtually no dementia!
In 2004, Dan Buettner teamed up with National Geographic and the world's best longevity researchers to identify pockets around the world where people live longer, better lives. In these Blue Zones people reach the age of 100 at rates 10 times greater than the United States. After identifying these zones, the team of scientists scrutinized the lifestyle characteristics and found all Blue Zones residents shared nine specific characteristics. These are referred to as: Power 9. Dan's book, The Blue Zones, has been a big hit, and its success has prompted many to ask, 'How can we in prove the health and longevity of the United States'? You can watch a short YouTube video by clicking on this link here: Blue Zones
These are the Power 9 'secrets' to a long, healthy life:
1. Move Naturally: Take the stairs rather than the elevator, stand rather than sit, park far away from the store entrance. Contrary to common thinking, those who exercise do not actually live healthier lives, but those who 'move naturally' do.
2. Purpose: Knowing your sense of purpose is worth up to 7 years of extra life expectancy! Can you sum up your life's purpose in one or two sentences if asked?
3. Down Shift: Stress leads to chronic illness and inflammation and is associated with most major age-related diseases.
4. The 80% Rule: Most of us over eat. This rule suggests you stop eating when you feel no more than 80% full!
5. Plant Slant: Always favor plant-based foods over meats.
6. Wine: Yes, you heard it right! Having one or two glasses of wine in the evening, preferably with a companion, has health benefits.
7. A Sense of Belonging: It is confirmed, people who attend a faith-based service 4 times per month add many years to their lives.
8. Loved One First: Centenarians keep aging parents and grandparents nearby, are in a committed loving relationship, and invest emotionally in their children.
9. The Right Tribe: The world's longest-living people chose or were born into social circles that support healthy behaviors.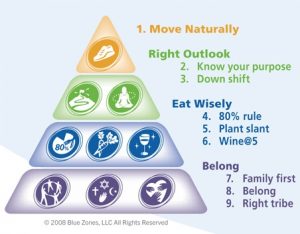 Now, imagine if we [Naples Florida] could make small, incremental changes to the way we live and in doing so dramatically improve the well-being of our entire community—Well, we can, and we are! I suggest you log onto the Blue Zones website. You will be excited to read that Naples Florida is currently a Blue Zones project. I recently took The True Happiness Test, also offered on this website. Links are also available to printable versions of the "Check Lists", and great recipes, and sources to help you become more involved.
I am so excited and proud to be living in a town like Naples Florida that is committed to helping its citizens lead longer, better lives! For more information on the local Blue Zones project and to read our community assessment, visit Collier County Blue Zones .
Please contact me directly if you would like me to send you the Blue Zones Personal Checklist. 1-239-250-4370
Thank you, and make it a great day,
The Naples Real Estate Blogger