Posted on June 03, 2016
THE
HISTORY OF NaplesRealEstate.com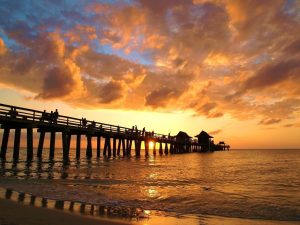 NaplesRealEstate.com is one
of the oldest domain names in the industry. Originally developed in 1997, it
has become one of the most widely used websites for gathering real estate
related information in Southwest Florida. Nearly 20 years ago, when Chip
& Michele purchased this site, they knew that the Internet would have a
revolutionary impact on the way consumers would conduct business. Their
forward thinking proved most successful. Today approximately 60% of their
buyer-controlled sales come from leads generated directly from this site.
This is an unprecedented statistic.
NaplesRealEstate.com is not just a
real estate website; in addition to doing complete real estate searches for Naples and the entire State of Florida, you
can also link directly to many other popular and useful local websites.
You can link to government sites, private and public schools, airport arrivals
and departures, movie theater schedules, shopping, restaurants, marinas and
golf courses, just to name a few. Because of these popular links, many of Chip & Michele's customers and friends have made NaplesRealEstate.com a favorite, referring to it regularly. According to The
National Association of Realtors, 92% of buyers begin their real estate
searches online. Few real estate companies can boast about their success
online like The NaplesRealEstate.com Team.
Over the years, The NaplesRealEstate.com Team has kept pace with the changes and
continue to maintain their Google 1st page ranking through various search engine
optimization and engagement of social media and blogging. NaplesRealEstate.com
paves the way, and today you are encouraged to register and make
NaplesRealEstate.com one of your favorites, too!
We are currently updating and redeveloping our website for the first time in 12 years. We welcome any suggestions you may have to improve its user friendliness and content! Click here to learn more about NaplesRealEstate.com and please follow us on Facebook and our other social media sites.
Thank you, and make it a GREAT day,
The Naples Real Estate Blogger