Posted on June 16, 2023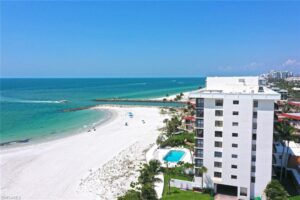 Most "Best Beach" rankings only consider the quality of the sand and the sunsets, but as reported recently by Florida Realtors News, a current study also ranked median home price, the number of beaches, miles of shoreline and average temperature, as well as the average length of the community's "swim season".  To be considered a good beach town each also had to have at least one access to a beach that the Environmental Protection Agency monitors. There are 241 beaches in Florida monitored by the EPA, totaling over 480 miles of shoreline. The article compiled a list of the Top 25. Some of the names were quite familiar, some I had to "Google" to find out where they are located. Median home prices ranged from $250,153 in Pensacola, to a high of $928,755 in Santa Rosa Beach.
Naples ranked Number 4, although I personally cannot imagine any beach being more versatile, accessible and none as beautiful. It was stated that Naples has 7 beach access points, but most tend to forget that at the end of every avenue in the city of Naples there is a public beach access with parking! Due to last year's hurricane, many of these access points are still under construction to improve access, but none the less, getting onto the sand on the nearly 10 miles of white sand beaches in Naples is seldom an issue. The article goes on to say that the average swim season in Naples is 364 days…you cannot get much better than that!
Topping the list at Number 1 is Panama City, with 22 miles of shoreline and a much lower median home price, however the average swim season lasts 244 days. Other Southwest Florida beach towns that made the list are Venice at #23 and Englewood at #14. The write-up intrigued me enough to want to visit some of the other little-known places such as Eastpoint, Carrabelle, Panacea and Jensen Beach.
Regardless of where you end up, more than half of Americans say they will take a trip this summer, up from 46% last year. Why not take a trip to Naples…? The Gulf Stream offers a wonderful breeze along the coast, there's lots of both indoor and outdoor activities to keep kids of all ages entertained, plus great restaurant deals in the summertime, too!
If you would like more information about beachfront properties on or near the beautiful beaches in SW Florida, give us a call. 1-239-404-4889
Thanks and make it a GREAT day,
The Naples Real Estate Blogger