Posted on March 01, 2023
Naples Ranked Number One!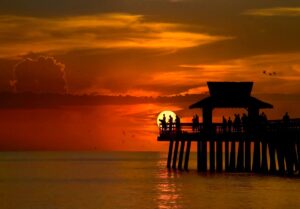 According to a recent study, our beautiful Naples Florida was just named the best place to live in the United States! Scholaroo is a nonprofit educational research company and scholarship website engine. It released its list of the best U.S. cities to live in for 2023, and Naples, Florida was ranked number one! The study analyzed over 150 American cities and rated the following nine main indicators of happiness and satisfaction: Crime & safety, economy, quality of life, health care, education, employment, leisure & entertainment, affordability, and infrastructure.
Naples topped the list for health care, with the highest number of hospitals. It also ranked very high for education with the highest number of public schools. It ranked in the top two cities nationwide in terms of bridge safety. It did however had the single highest median home value of the cities the study examined. This is an ongoing issue in SW Florida, and one that is being addressed by both local and state governments. Meanwhile, Miami ranked only 124 out of 151 cities, despite the fact that just last year Time magazine called it one of the best cities in the world and last month Forbes reported it was among the best places to live in the country. Miami ranks second worst in terms of education, and it also scored poorly in affordability and economy. I guess everyone has their opinions and as we all know, statistics have so many variables. This might be why we are seeing such an influx of buyers from big cities…people love the small town ambiance of Naples while still enjoying world class health care, restaurants and culture.
Naples also works hard to preserve the natural environment that surrounds us, as we are bordered on three side by nature; The Everglades to the east, the Ten Thousand Islands to the south, and the Gulf of Mexico to the west, making it a big draw for outdoor enthusiasts as well. Approximately 80% of Collier County is preserve lands and will never be build on!
There is something for everyone in Naples…prices start in the $200's and range all the up to the multi-millions. We at the NaplesRealEstate.com Team look forward to assisting you with all your real estate needs. Call us today. We look forward to earning your trust and future real estate business here in Paradise! 1-239-404-4889
Thanks for reading.
Sincerely,
The Naples Real Estate Blogger
Here is the list of the Best cities to live:
1. Naples, Florida
2. Carmel, Indiana
3. Naperville, Illinois
4. Amherst, New Hampshire
5. Portland, Maine
6. Alpharetta, Georgia
7. Madison, Mississippi
8. Papillion, Nebraska
9. Leawood, Kansas
10. Cambridge, Massachusetts